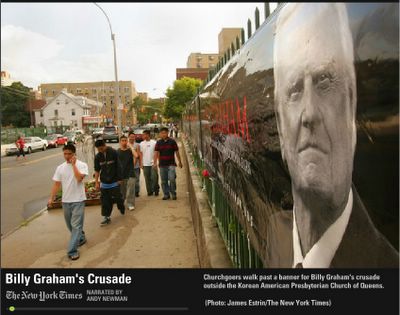 James Estrin/The New York Times



On the Fox News Channel, Shawn Hannity was interviewing Rev. Billy Graham and asked, "How would you like to be remembered?" Rev. Graham's reply was, without hesitation, "I was faithful."

In speaking to the church leaders at Ephesus, the Apostle Paul tells them:


However, I consider my life worth nothing to me, if only I may finish the race and complete the task the Lord Jesus has given me--the task of testifying to the gospel of God's grace. (Acts 20:24.)

Later, as Paul was finishing out his evangelistic crusades, he envision having crossed the "finish line."


For I am already being poured out like a drink offering, and the time has come for my departure. I have fought the good fight, I have finished the race, I have kept the faith. Now there is in store for me the crown of righteousness, which the Lord, the righteous Judge, will award to me on that day--and not only to me, but also to all who have longed for his appearing. (2 Timothy 4:6-8)

Tim Krell writes, "Paul reminds us that he is not alone in the race. All of us are invited to run. Some will run fast, some will run slow, and some will not run at all. Some will engage in great training, some will not. Some will run the race unharmed, while others will suffer injuries along the way. Those who choose to run, like Paul, can look forward to receiving their "award" from God."

The New York Times writes: "[his sermon at Flushing Meadows] will almost certainly conclude Mr. Graham's remarkable run as the world's evangelist, having preached to more than 210 million people in over 185 countries and territories.

Among the evangelical faithful, talk has been bubbling for years about who might inherit Mr. Graham's mantle as America's spiritual leader, with everyone from his son, Franklin, to the mega-church pastor Rick Warren, author of the blockbuster bestseller, 'The Purpose Driven Life,' to T. D. Jakes, an African-American Pentecostal preacher, offered up as contenders.

But if history is any guide, it may be a long time before someone of Mr. Graham's stature emerges again. 'In a sense, no one takes their place,' said David E. Harrell Jr., a history professor at Auburn University, referring to evangelists who attained mountaintop status, like Mr. Graham, or those in history to whom he has been compared, including Dwight L. Moody, Charles G. Finney and George Whitefield."

Billy Graham, a Hard Act to Follow - New York Times



James Estrin/The New York Times

View the excellent audio slide show narrated by Andy Newman for the New York Times.