Last week, Tomi Ahonen stopped by to speak to our team at a Motricity employee function. A fascinating and engaging speaker, this cat "is a bestselling author and independent consultant in the emerging areas of next generation wireless (who) lectures at Oxford University and is seen annually at about 20 telecoms on six continents."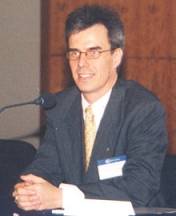 Tomi Ahonen



Part of his talk mentioned industries that will have a significant contribution to the "Mobile Internet" / "Mobile Portal Services" or "Wireless Services" / "Cellular Data Services" or "Value Add Services in Wireless"... in other words, there is ability to monitize a service such as MTV (Music Television) which immediately made me chuckle.

I caught up with Tomi Ahonen one on one later. A mention here - always get away with great minds - there is so much to take in drinking from a water fountain of knowledge, especially when that someone is a great listener and encourager like Tomi. Think about it - how often does one get to spend time with someone "...considered the global authority on making money with new wireless services, (who delivers) over 120 papers at industry conferences on six continents dealing with topics relating to 3G and advanced wireless services..." ???

We both laughed about his mention of MTV. Why? MTV will be 24 years old August 1 and carriers see a way to monitize MTV via cellphones. I shared a bit of history about MTV; way back in 1976, I was a long haired, T-Shirt and satin jacket wearing passionate music merchandiser and marketer for the record division of Warner Communications (WEA) which primarily was the the distribution, marketing and manufacturing arm for Warner Bros/Elektra/Atlantic Records for eight glorious years.

I wrote earlier in a post:


Music was really happening then, when Fleetwood Mac's Rumours was the all time best seller, Rod Stewart was sexy, Bob Marley was smokin! and Talking Heads, the Pretenders, Genesis, the Eagles, Rolling Stones and countless others were so innovative in their music. I was making the rounds with many bands, with my long haired flea bitten varmint coworkers to support the grassroots promotional efforts such as a new Irish band named U2 to local college stations and retailers to get some sales going.

Cassettes came on the scene, and it was a tough sell to convince retailers to reconfigure their shelves for this concept of portable music when 8 tracks were king. Then Sony came along in 1979 with the "Walkman" and music was never the same again!
One of our sister companies (which included Warner Home Video, Atari, Warner Bros. Movies, D.C. Comics, Warner Books) was Warner Amex Cable (a joint venture between Warner Communications and American Express) who took the time to survey the market and
QUICKLY
fill a innovative need to sell music when pop radio decided that the public really needed just 10 songs to satisfy our musical tastes. From a marketing and merchandising perspective, we no longer had to be tied to radio for our success and promotion of artists.
That dinosaur thinking still exists today: witness the rise of iPods, satellite radio, mix tapes... With today's radio formats, one would think that Led Zeppelin only recorded one album, with one good song
"Stairway to Heaven"
!
mtv

"MTV (Music Television) is the oldest and most influential American cable network specializing in music-related programming. It was launched on August 1, 1981, with the words 'Ladies and gentlemen, rock and roll,' spoken on camera by John Lack, one of the creators of MTV. This introduction was immediately followed by the music-video clip Video Killed the Radio Star featuring a band called the Buggles.
"
The Buggles

"The title proved somewhat prophetic as MTV greatly transformed the nature of music-industry stardom over the next several years. At the same time, MTV became a major presence in the cable-TV industry and in fact in the overall American cultural landscape.
One of the earliest and greatest cable success stories, MTV was established by Warner Amex Satellite Entertainment Company (WASEC) after extensive marketing research. The key to MTV's viability, at least initially, was the availability of low-cost programming in the form of music videos. Originally these were provided free by record companies, which thought of them as advertising for their records and performers.
"
link
Entertainment Weekly ranked
The Birth Of MTV
as the sixth greatest moment in TV History.
Aug. 1, 1981 ...From the start, it was clear that everything about the cable upstart--its kinetic style-over-substance aesthetic, its kicky irreverence, its edgy antiauthoritarian bent--was designed not just to attract young viewers but to empower them with a new identity. Suddenly, they w eren't just teenagers, they were the MTV generation. (Of course, the task was difficult in those early days, given the lack of any actual programming. 'When we went on the air,' says Tom Freston, chairman and CEO of MTV Networks, who at the time was head of marketing, 'we had 168 clips. And 30 of them were Rod Stewart.') The fallout was dramatic. 'I want my MTV!' quickly graduated from promotional slogan to teen rallying cry. Movies and TV shows soon began copying the network's quick-cut, impressionistic feel. Music began championing a new breed of rock star--video-friendly artists such as Michael Jackson, Madonna, and Duran Duran. It was a signal moment in pop-cultural history: For the first time, an entire generation could be defined not so much by their common beliefs but by the type of TV they watched. "
From:
Entertainment Weekly
The 100 Greatest Moments in Television
Time Warner: Warner Bros and Warner Communications