Rob ask a great question -

Question: If you could work anywhere for the knowledge or experience for three months, where would you work?

Criteria: It's not about the money, it's about the experience or knowledge that you receive by working there.

Rob's response:

Starbucks - I think it'd be cool to learn and understand the thousands of types of coffee, how to make them, and what they are all about

Panera Bread Company - Again, I think it would be cool to learn how to bake and make all the different kinds of breads and pastries

NFL Sideline Photographer - To develop my photography skills in an environment that I love!

Yahoo's Strategic Planning Group - I don't know if they really have one, but it would be so cool to be part of a large company playing 'catch-up' to Google, yet leading in the social marketing area (as a portal).

My response:

A fine woodworker's shop; better yet interning with Norm Abrams from New Yankee Workshop to hone my skills as a carpenter learning from the best.

Lowes/Home Depot or Best Buy so that I can buy everything at cost! Electronics are great, but power tools is where it's at!

For an NFL team breaking down film and stats to create a game day chart.

Lego as an inhouse designer.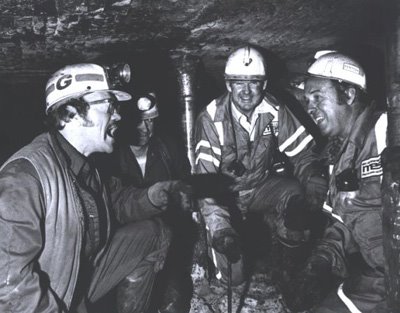 photo credit

Besides working in a coal mine, what say you?