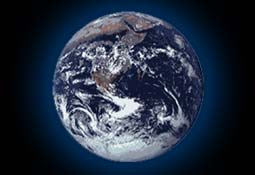 Earth



Molecular Expressions: Science, Optics and You -
Secret Worlds: The Universe Within

Soar through space starting at 10 million light years away from the Milky Way down through to a single proton in Florida in decreasing orders of magnitude (powers of ten). This tutorial explores the use of exponential notation to understand and compare the size of things in our world and the universe, and provides a glimpse of the duality between the macroworld around us and the hidden microworld within.

Gives great visual meaning to the song "God of Wonders"


Lord of all creation
Of water earth and sky
Heavens are your tabernacle
Glory to the Lord on high

God of wonders beyond our galaxy
You are holy, holy
The universe declares your majesty
You are holy, holy
God of Wonders - Written by Steve Hindalong and Marc Byrd