The famous "Face of Famine" shot of Birhan Woldu from 1984. (CBC/ Phillipe Billard)



If you were watching Live8 and the Madonna set, Birhan Woldu was the girl onstage with Madonna.



Jo Hale, Getty Images Europe
LONDON - JULY 02: Singer Madonna with Birhan Woldu on stage at "Live 8 London".



Read about Birhan Woldu's testimony - which is a remarkable tale of survival.

Actions speak louder than words - we all can make a difference, collectively and individually.


The crowds fell silent before the giant screen as they saw a hand gently stroking the forehead of a young Ethiopian girl ravaged by hunger and appearing to be just moments from death. Her sunken eyes and parched lips moved almost imperceptibly.

The speakers played the haunting Cars song "Drive", which has become the soundtrack to footage of the Ethiopian famine. The image and music are seared into the mind of anyone who watched the original Live Aid concert at Wembley stadium.

The child was Birhan Woldu and the nun looking after her claimed at the time she had only 15 minutes to live but she hung on and was saved by the aid that flooded into Ethiopia after the 1985 Live Aid concert.

Strange Destiny: in depth Ethiopia

Embracing the face of famine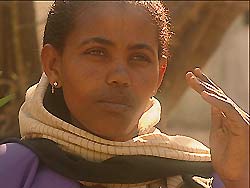 Birhan Woldu



Birhan Woldu is devout Orthodox Christian and is studying plant science at college supported by the African Children's Education Trust, a Leicester-based charity.