"If you want to know what's good about Promise Keepers, ask a Promise Keepers' wife."

That's the old slogan of PK from the early days of 1996. It's still true today. PK gives a man the means and opportunity to re-focus on things that are truly important, including his relationship with his wife and kids. The person who is closest to him sees the change.

PK is more than a terrific two-day worship experience. It combines soul-searching with a call to action. Coming back from a PK event, most men re-dedicate themselves to a new level of accountability for their behavior, as well as a commitment to seek God's purpose in their lives.

These things could happen in an ordinary church context, but they usually don't. To really "catch fire" men need to see and feel the energy of God at work in a large assembly of other men. That's what a PK conference does."

-- Central Presbyterian Church, Baltimore, Maryland

"I knew that all the spiritual benefits my husband received at Promise Keepers would overflow to me. How could they not? Is not his honor my honor? His integrity my integrity? Are not his blessings my blessings?"

-- Judy, Onova, Iowa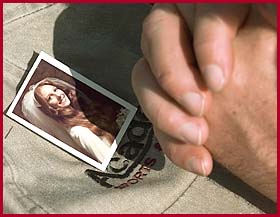 a Promise Keeper prays for his wife...