PalmSource 2005



Wrap up on The PalmSource Mobile Summit &
DevCon 2005 - what a week!

My greatest take away was how involved my peers, business relationships, team members, software developers, blog buddies, new acquaintances and yes, even competitors are so intertwined with a healthy appreciation and excitement for a piece of mobile and handheld technology called Palm OS. Technology is compelling when I hear firsthand stories about how software and hardware devices empower users to make a difference in the various fields of education, medical, ministry, business and personal lives!

Many people invest in healthy relationships and a common focus (in this case all things Palm) because it gives purpose/meaning to their life. They develop friendships and learn about their value to each other and to the world who embrace common goals. My thanks to the staff at PalmSource who invested a lot of energy and resources to create a positive and very upbeat environment for these relationships to flourish.

So here is a fly by of all things PalmSource DevCon with links to articles and photos. So if you want a deep dive on the conference, enjoy the following at your leisure!

Mike Rohde has a 4 Day Wrapup on the PalmSource DevCon series, which is a good contrast from the tech blogs.

DevCon Live Shows Audio interviews produced by The Computer Outlook Show and cohosted by my blog pal Michael Ashby as well as other blogs that covered the conference are listed here

Press releases link

Seen and heard paparazzi photo section:



The Flying Minardo Bros.



(l-r) Parker and Marshall Minardo from PDAPerformance. Parker is the 16 year old developer of Contacts5 Photo Edition Simply amazing...



Cassidy Lackey



Cassidy Lackey, (Wyoming purebred) is one of the smartest and most articulate guys in the Palm space who founded Mobile Generation, and also supervises product and web development for Handmark.



David Kendall



David Kendall of UltraSoft and tell-it-like-it-is-nice-guy is well known for UltraSoft Money as well as a Canadian renowned bass guitar musician. Sharp dresser also...



Howard from Astraware



Palm Statesman and gamer Howard "Mr. Bejeweled" Tomlinson of Astraware, not only has his own blog, but took a leadership role by donating $30,000 for the Tsunami Relief effort from all of January's proceeds from Bejeweled while graciously ignoring the flamers. UDAMAN.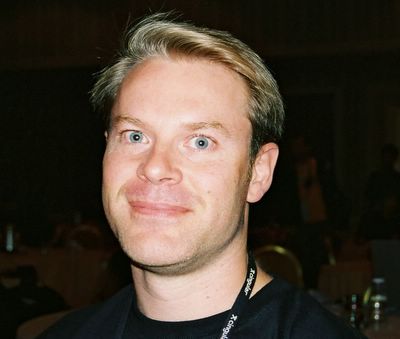 Gavin Maxwell



Class act and stand up guy Gavin Maxwell of PocketScience from Australia taught me what a Kiwi was - I still manage to get my time zones wrong and wake him up...



John Chaffee



John Chaffee, brainchild of SplashData, created a viral buzz at the conference with a very creative SplashBlog promotion, which not only got everybody photo blogging, but totally sucked all the available wifi bandwidth. I hear that classical pianists are known for their genius gene...



Carla & Arthur Humphrey



Carla & Arthur Humphrey of Last Day of Work - everybody's favorite couple at the conference! Not only do they like tennis, travel, ham radios and all things Italian, but they write award winning software like Village Sim.