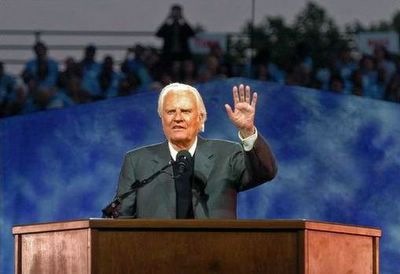 The Rev. Billy Graham greets the crowd as he begins his last crusade last night in a park in Queens, N.Y. KNIGHT RIDDER



If you want to get a glimpse of the logistical preparations behind a Billy Graham Crusade, here's a good article from the New York Times.



NY Crusade office



Just like a Promise Keepers gathering, much work, planning, preparation, support from the local churches and a massive volunteer deployment starts with much prayer.

Things to consider? Here's a just a few of the pre-event things to plan for when I had a hand in coordinating stadium & arena events for when I served with the ministry of Promise Keepers (after the venue is secured). Keep in mind, it's ALL ABOUT TEAMWORK - delegating, coordinating, empowering, encouraging, building relationships and prayer, prayer and more prayer!

Mass Transit plan
Parking assignments
Speaker & Staff Housing
Handicapped and special needs
Bus/RV parking
Volunteer recruitment (800 to 3000 depending on arena/stadium)
Production (staging, lighting)
Clean up plan (leave the venue cleaner than when we moved in)
Parking passes - ordered / received / assigned
Move-In schedule (pallets of resources, food, Audio, Video)
FM transmission (web broadcast, live feeds)
Equipment list
Golf carts
Radios and language translation
Port-A-Lets (outdoor events)
Fork Lifts
Crane
Office equipment
Just for starters...



Seating logistics (click on image for larger view)

A Billy Graham sermon is a model of simplicity and directness.

A Billy Graham crusade... is a decidedly more complex undertaking, requiring, oh, several million painstakingly assembled ingredients.

Like the five-tier usher organization chart, essential to helping the throngs of people expected at Flushing Meadows-Corona Park to find their seats.

Or the tactical wall map at crusade headquarters plastered with 1,424 red dots, one for each local church that worked for months to fill those seats.

Or the shelves of pink (for women) and blue (for men) binders crammed with the applications of the 6,000 volunteer counselors who will meet those who come forward to pledge their lives to Jesus.

None of these things will be on display... But they are all in place, along with the boxes of Bibles, the security checkpoints to be staffed by Cops for Christ and the Christian Law Enforcement Foundation, and, believe it, the arrangements for the pickup of each evening's offerings by an armored car.

However lofty the three-day crusade's spiritual goals, the worldly preparations for a huge religious event can be mighty impressive, too.

read more...
Faith and 70,000 Folding Chairs
Graham embarks on last crusade