One of the most anticipated events (and my favorite) at the PalmSource DevCon is the announcement of the Powered Up Awards; below is the hacked press release with photos inserted and links back to the Palmgear website where you can download a trial version. Check all four out; they are all outstanding applications.

Having worked with these developers for the past several years, I feel like a proud parent at a high school or college graduation!

Four Developers Recognized at Fifth Annual US PalmSource Mobile Summit & DevCon

PalmSource honored four Palm OS developers with Powered Up Awards at its fifth annual U.S. PalmSource Mobile Summit & DevCon. The awards recognize four of the most innovative Palm OS applications from among the 400,000 Palm OS developers and showcases industry-leading mobile Palm OS applications that utilize the advanced features of Palm Powered™ smartphones and mobile devices.

Selected from thousands of nominations (more than 150% over last year), the four Powered Up Award winners were chosen by their peers, fans, PalmSource employees, and licensee partners based upon the following criteria:

Innovation- Solutions that are truly unique and run on the latest Palm Powered devices.
Popularity- Solutions that lead the industy in sales and downloads;
Benefits- Solutions that enhance quality of life;
Ease of Use- Solutions that are simple, elegant and useful;
Support- Solutions that are regularly updated with readily available product support.

Winners were selected in four categories and include:

Best Enterprise / Productivity Solution: The Missing Sync by Mark/Space, Inc.



Powered Up Winner - Mark/Space



The Missing Sync for the Palm OS® platform is designed to provide Mac users with an unparalleled synchronization manager for Palm Powered™ mobile devices and smartphones. In addition to supporting existing Mac conduits and synchronization technology, The Missing Sync adds Wi-Fi synchronization, intuitive conduit management, Internet access over USB and Bluetooth, desktop mounting of memory cards and other features previously unavailable to Mac users. Designed for seamless integration with iPhoto and iTunes users have mobile access to their digital media. Developers can leverage The Missing Sync's framework to create new Mac conduits for Palm OS using advanced tools such as Apple's Xcode. going forward, The Missing Sync for Palm OS Cobalt ensures continued Mac synchronization support through future generations of Palm Powered mobile devices and smartphones.

Best Multimedia Solution: SplashBlog by SplashData, Inc.



Powered Up Winner - SplashData



SplashBlog is a wireless photo-blogging solution designed to allow users of Palm Powered smartphones to quickly share photos with others. SplashBlog includes software for capturing, annotating and organizing photos on the mobile device as well as on the web with an account on SplashBlog.com where photos are hosted and shared with others. The new features in SplashBlog 1.5 include the ability for multiple users to post photos to a shared photoblog, a new portal page on splashblog.com that displays recently posted photos as well as the most popular photoblogs, and a streamlined approach to subscribing to other users' SplashBlogs - enabling users to automatically download and view all new photos posted to blogs to which they are subscribed.

Best Wireless / Over-The-Air Solution: Quick News by Stand Alone, Inc.



Powered Up Winner - Stand Alone



Designed for the latest generation of Palm Powered mobile devices and smartphones, Quick News is designed to provide easy, mobile access to online news feeds and podcasts. Quick News is the first product to automate and simplify podcast downloading, delivering up-to-the-minute information from the internet directly to Palm Powered devices. This popular application allows you to easily manage hundreds of RSS feeds and quickly locate crucial and timely information from a sea of raw data. The latest version of Quick News supports both the internal memory partitions on the newest Palm Powered devices as well as memory cards, allowing for significantly increased on-device information storage. Quick News also features automatic updates, advanced search capabilities, support for embedded images, a flexible and configurable interface, attachment support, customizable shortcuts, proxy support and improved OPML import and export capability.

Best Games / Entertainment Solution: Village Sim by LDW Software, LLC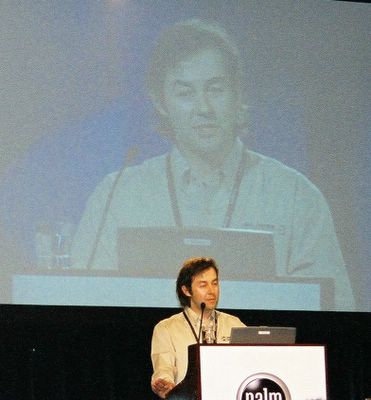 Powered Up Winner - LDW Software



Village Sim is a village simulator where you care for and nurture a tribe of little people by teaching them the basics of survival. The object of the game is to grow a small village on your Palm Powered mobile device or smartphone. The villagers have food and housing needs, technologies to research and diseases to fight. As the village grows and prospers, the inhabitants become curious about their mysterious island home and the secrets it holds. Aside from guiding the villagers' day-to-day lives, the player helps them explore and restore the island. Village Sim is a true real-time game that keeps on playing - even if the player's device is turned off or if they exit the game. The villagers will have grown and new surprises will await the player hours later after resuming the game.

Dr. David Nagel, president and chief executive officer of PalmSource, who honored the Powered Up Award winners during his opening keynote, said: "Palm OS® developers continue to innovate at an incredible pace, making smart mobile device applications more valuable by providing users with what is right for their needs, whether for business, travel, learning or entertainment. We are delighted to recognize the contributions of these developers and celebrate the value Palm OS® developers offer the entire Palm Powered™ Economy."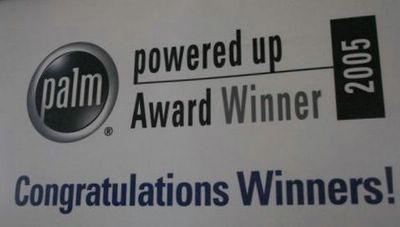 Congrats to all